The mystery of the missing checks…. no solution yet.  I will admit right up front, maybe I missed something or maybe our bookkeeper did.  Or maybe it is the printer problem or maybe it is Windows problem.  But maybe it is an Intuit software problem too.
Our bookkeeper recently upgraded to QuickBooks Pro Desktop 2019.  And the print deposit slip function quit working correctly – oh it will print but just omits the checks from the slip.  So we can't deposit checks and make buy stuff ourselves.  Oh, I suppose we could hand write the deposit slips … but really?  We have computers for a reason!
This is what happens:
The checks DO NOT print in the RED area, but should print in the RED area.  This is the deposit slip part.

The BLUE area is the extra copy for your records, but really with QuickBooks I have no idea why this is still a thing as we just throw away (shred) this section.  However, this BLUE area does print.
So you know, this is all one sheet of paper.  Even though it's small image above and might look divided, keep in mind the RED and BLUE areas above are on the same piece of paper.
Doing general troubleshooting we confirmed or tried the following:
obviously printer works, prints information on the deposit slip in the advice/record area in blue, but not elsewhere
print preview shows also shows the checks listed in the bottom section (blue), but nothing in the top section (red)
other things print from the printer just fine
print to PDF gives the same result – listing in the bottom but nothing in the top deposit slip section
Even tried all the options in the 'printer setup' for deposit slips ("include cash …" and "combine checks …").  Turned these settings off and on, to see if they made any difference, but they didn't.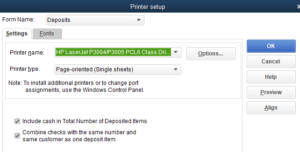 Right at the moment I think it is an Intuit problem.  However, our bookkeeper has called QuickBooks support 5 times now with no resolution.  One of the support sessions apparently concluded after 45 minutes with the support agent saying that QuickBooks 2019 discontinued the ability to print deposit slips [I seriously doubt that is the case – they still sell deposit slips].
ARE YOU HAVING THE SAME PROBLEM?
Someone might tell me to just use EFT with clients.  And we do with a lot of them, but some still just send us paper checks, so we desire to deposit them.  Really we could just keep the checks because they are pretty to look at, but instead we like to turn the paper checks into little digital ones and zeros at our bank so… you know we can buy stuff.
Probably someone will also tell me to just use the bank's remote capture deposit – where you buy a scanner from the bank and do your own deposits.  And you know, we wouldn't mind this, but our bank charges heavy fees for this and we don't use this feature. Although, have thought about switching banks just to have an easier/better remote or mobile deposit option.